From the Ice Age to Fort Lawton to Discovery Park – Construction to Restoration
The saga of Discovery Park starts 8-10 thousand years ago when the great continental ice sheet that carved out Puget Sound began retreating in earnest leaving behind the characteristic sandy and gravely bluffs  that almost immediately began slipping into the sea as they still do today.
Over time an old-growth hemlock-douglas fir-cedar forest covered much of the Magnolia peninsula with scattered meadows coming and going.
By 3000 years ago local tribes began to use the West Point beaches and marshes for seasonal hunting and gathering camps and this continued up to and probably beyond the time of permanent settlement by non-native immigrants in 1851.
Over time, these migrants began to clear the peninsula and by the 1880's more open orchards were present where old growth had prevailed. There is limited documentation on how many structures were there but for sure there was a Lighthouse at West Point and other supporting buildings.
In 1898 locals induced the US Army to envision a Fort on this land and to that end donated 1000 acres for Fort Lawton. A short burst of construction created the yellow buildings you see today and Fort Lawton's building count approached 35 by 1910.
The Army lost interest in expanding Fort Lawton and few if any new building appeared until the 1930's. The oldest aerial image from 1928 shows the Fort as it probably appeared in 1910.
The images below show what happened next.
1936 Aerial and 1944 Fort Lawton Post Buildings Schematic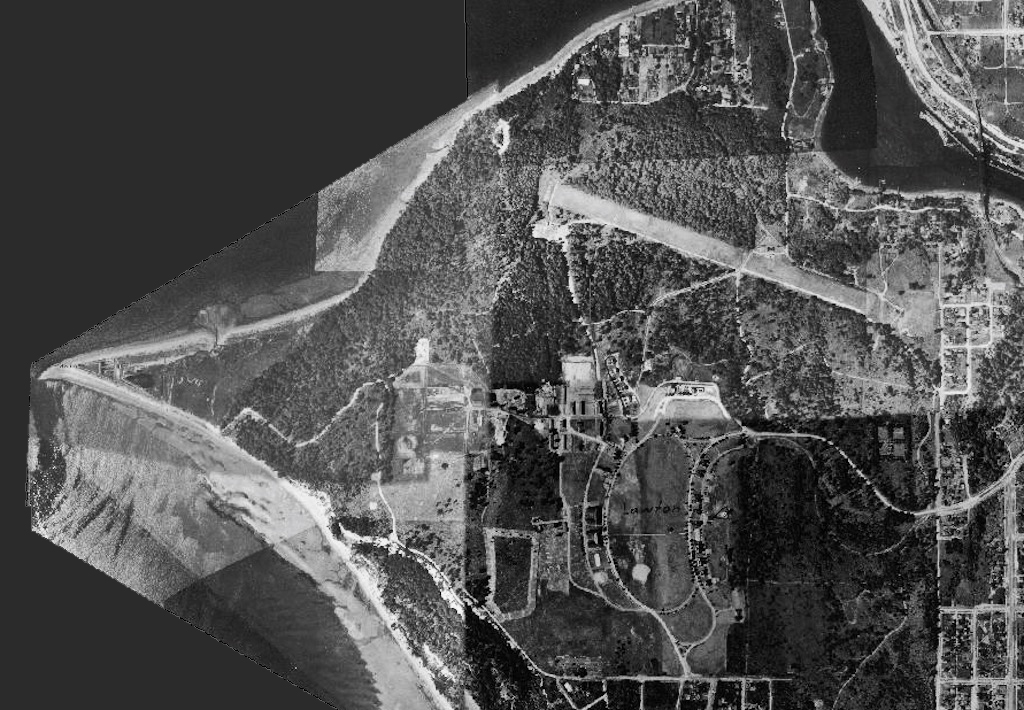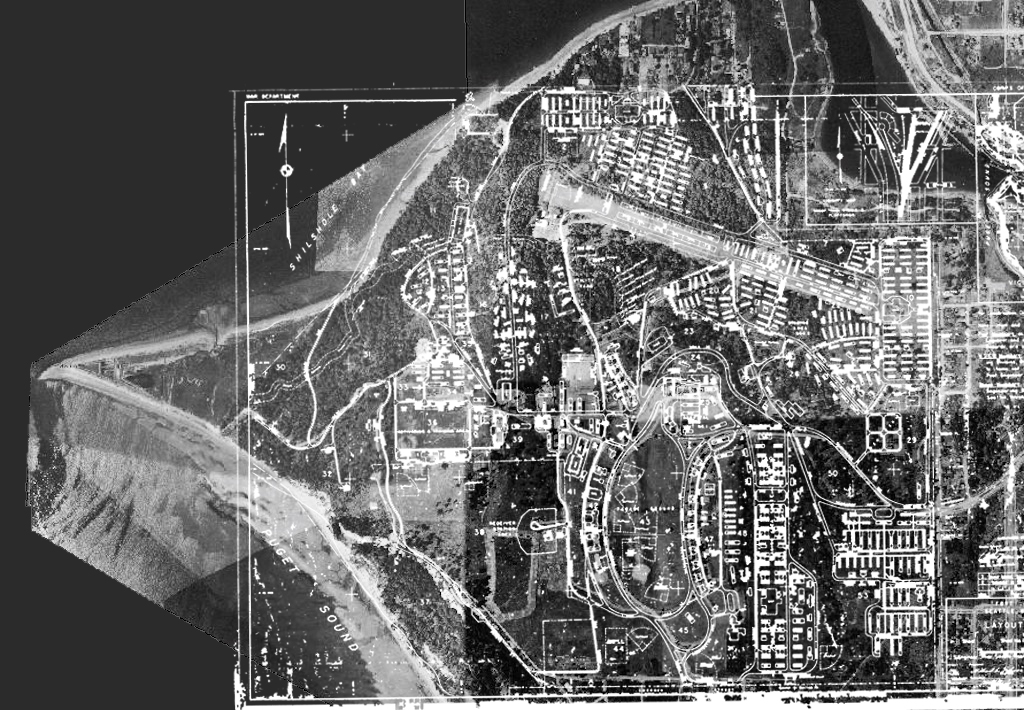 The above before-after image shows the transformation from 1936, just before awakening concern about a possible war were growing to SEP 1944 when Fort Lawton reached its maximum built extent. The 1936 image appears to show little construction since 1910 but lots of land clearing and work areas. The 1944 image (a schematic drawing recently obtained from the Army Corps of Engineers) shows 700 building plus 50 or more dedicated "features" such as baseball fields, abandon ship training structure, rifle ranges, volleyball courts, a 3000 foot and 100 foot wide obstacle course and more. Plus the vast array of roads, parking lots, electrical, water and sewer infrastructure to support up to 50,000 people in residence at any one time.
1944 Fort Lawton Post Buildings Schematic and 2018 Aerial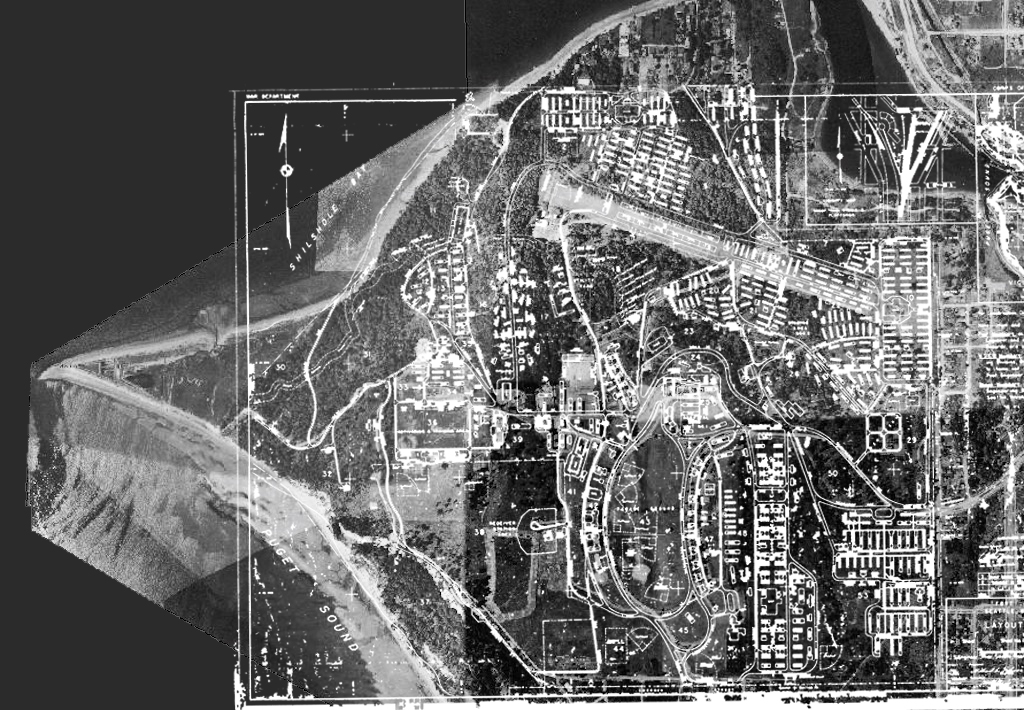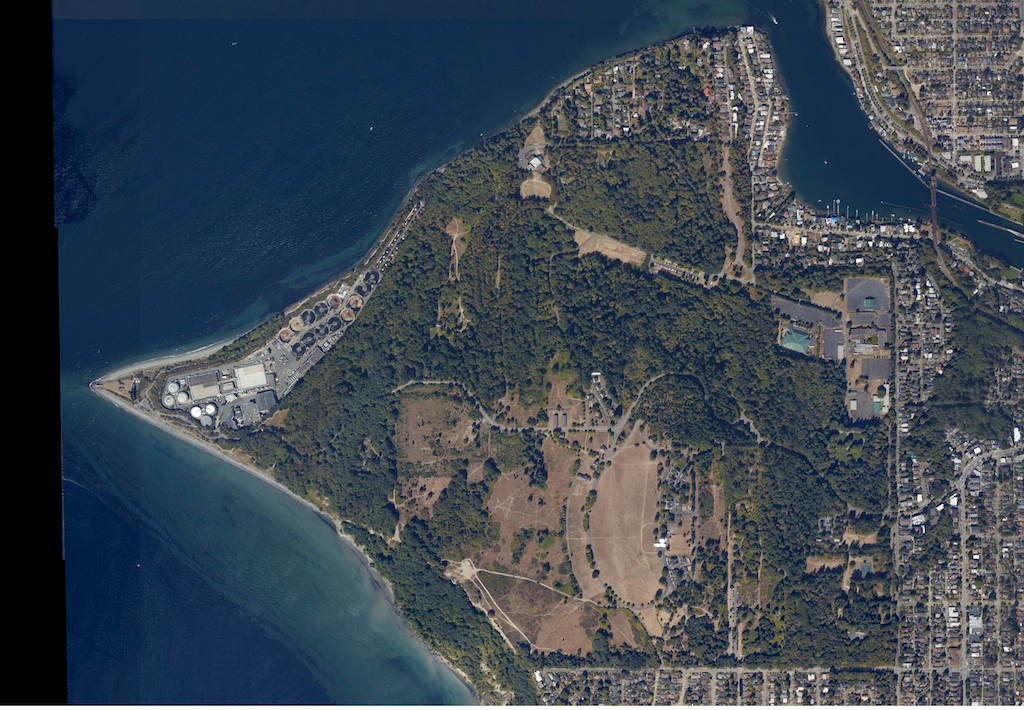 The above before-after image shows the unbuilding phase of Fort Lawton and Discovery Park followed by the restoration of native habitat which continues today. After 1945 many buildings intended only for short term use and poorly constructed began falling down or were demolished rapidly. By 1974, when much of Fort Lawton became Discovery Park  the building count was around 200, some of it new construction since 1944 like the Capehart housing, West Point Treatment Plant, Nike Building and others.
1944 Fort Lawton Post Buildings Schematic and 2018 Aerial 2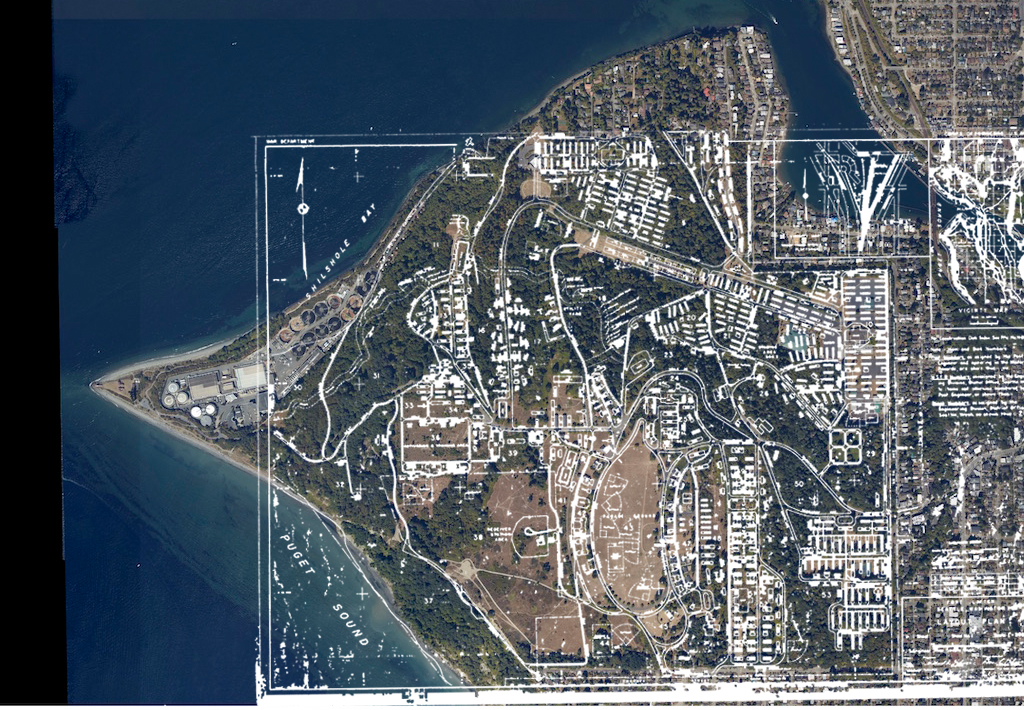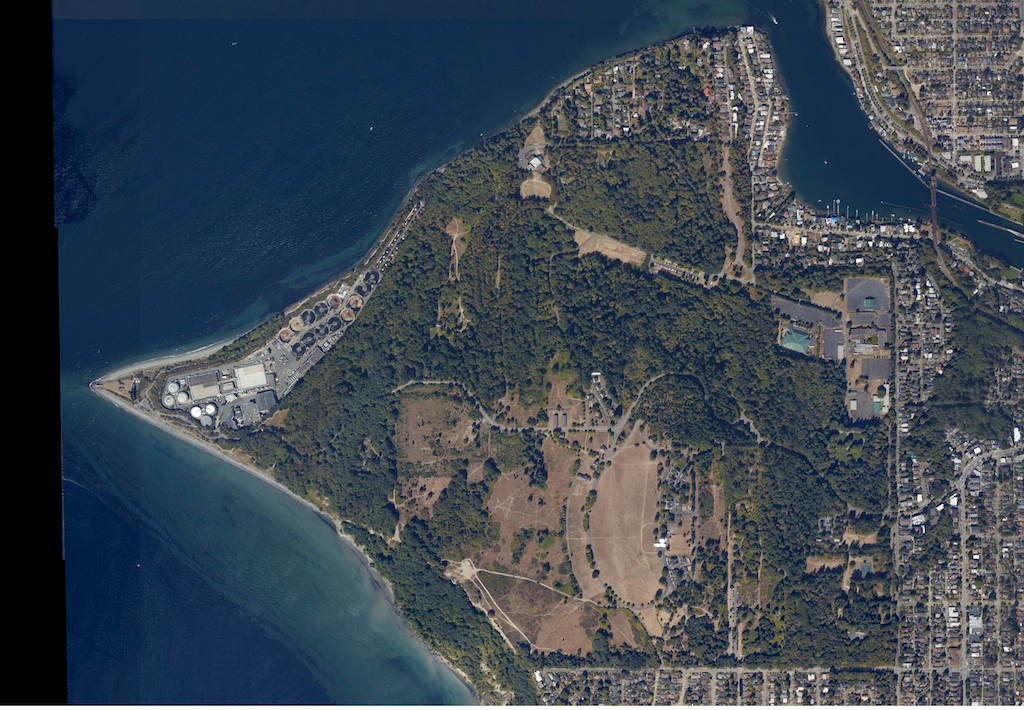 From 2002 until 2012 a wave of removals saw the 500 Area, Nike and supporting structures and Capehart area beginning their restoration. The 2018 image shows the extent of reforestation accomplished by many government, non-profit and volunteer contributors.
We can truly say that we have accomplished a feat of restoration that is clearly visible from Space!
For more on the history of the Park and the many exciting aspects of our ongoing story, please explore our website.
1944 Fort Lawton Post Buildings Schematic